Author TD Barnes Releases his Latest Novel "Evolution – A Space Odyssey from Earth"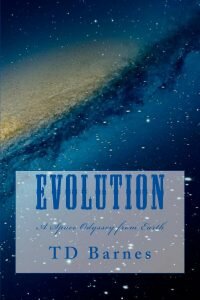 For five years the four had trained together for the first manned flight to Mars. All, two men and two women, an American, a Canadian, a Japanese American, and an African-Australian were astronauts, having spent one tour on the International Space Station during training and another four months as they prepared an orbital launch of the SpaceCorp-owned spaceship Explorer. An over-burn of its rockets due to sabotage during departure dooms the Mars mission and leaves the Explorer and crew no choice but look for a new planet or asteroid to colonize. That's what the US military and intelligence agencies wants everyone on Earth to think. In truth, the Explorer was on a dual mission, one to prepare a venue for colonization and the other a militarized mission to test a new device in space. There was no going back after they found what they were seeking.
Other Books by Author:
Fiction
EMP – Book 1 – Nuclear Winter
EMP – Book 2 – Nuclear Spring
EMP – Book 3 – Nuclear Summer
The Wildcatter
The Senator
The White Hats
Non-fiction
Soaring with the Eagles
The Secret Genesis of Area 51
THE AREA 51 CHRONICLES the CIA AT AREA 51 1955–1979
Book 1 – The Angels
Book 2 – The Archangels
Book 3 – The Company Business
Books available on CreateSpace, Smashwords, Apple, Amazon, Kobo, Barnes & Noble and Sony.
eBooks are available at Smashwords, Nook, iTunes, KOBO, and Amazon with distribution in the USA, UK Germany, France, Spain, Italy, and Japan.
Available in paperback at Createspace, Barnes & Noble, and Amazon with distribution in the USA, UK, Germany, France, Spain, Italy, Netherlands, Japan, Mexico, Australia, India, Brazil, and Canada.