About the Author TD Barnes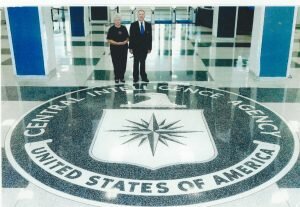 Visiting those for whom TD worked for many years
Our passport photos over 63 wonderful years
Contact Thornton D. "TD" Barnes

About the Author
Thornton D. "TD" Barnes, author, and entrepreneur, grew up on a ranch at Dalhart, Texas. He graduated from Mountain View High School in Oklahoma and embarked on a ten-year military career. He served as an Army intelligence specialist in Korea and then continued his education while in the US Army, attending two and a half years of missile and radar electronics by day and college courses at night. Barnes deployed with the first combat Hawk missile battalion during the Soviet Iron Curtain threat before attending the Artillery Officer Candidate School, where an injury ended his military career.
Barnes's career includes serving as a field engineer at the NASA High Range in Nevada for the X-15, XB-70, lifting bodies and lunar landing vehicles; working on the NERVA project at Jackass Flats, Nevada; and serving in Special Projects at Area 51. Barnes later formed a family oil and gas exploration company, drilling, and producing oil and gas and mining uranium and gold.
Barnes currently serves as the CEO of Startel, Inc., a landowner, and is actively mining landscape rock and gold in Nevada. He serves as the president of Roadrunners Internationale, an association of Area 51 veterans, and is the executive director of the Nevada Aerospace Hall of Fame.
Two National Geographic Channel documentaries feature Barnes: Area 51 Declassified and CIA—Secrets of Area 51. Numerous documentaries on the History Channel, the Discovery Channel, the Travel Channel, and others also feature him. The Annie Jacobsen book Area 51 Declassified documents his career..
Barnes lives in Henderson, Nevada.
Connect with the Author Online
Facebook: www.facebook.com/ThorntondBarnes
Blog: td-barnes.com/blog
Website: td-barnes. com
LinkedIn: www. LinkedIn.com/profile/edit?trk=tab_pro
Twitter: twitter.com/ThorntonDBarnes
Books Authored by TD Barnes
Fiction
EMP – Book 1 – Nuclear Winter
EMP – Book 2 – Nuclear Spring
EMP – Book 3 – Nuclear Summer
The Wildcatter
The Senator
The White Hats
Non-fiction
Soaring with the Eagles
The Secret Genesis of Area 51
THE AREA 51 CHRONICLES the CIA AT AREA 51 1955–1979
Book 1 – The Angels
Book 2 – The Archangels
Book 3 – The Company Business
Books available on CreateSpace, Smashwords, Apple, Amazon, Kobo, Barnes & Noble and Sony.
eBooks are available at Smashwords, Nook, iTunes, KOBO, and Amazon with distribution in the USA, UK Germany, France, Spain, Italy, and Japan.
Paperback available at Createspace, Barnes & Noble, and Amazon with distribution in the USA, UK, Germany, France, Spain, Italy, Netherlands, Japan, Mexico, Australia, India, Brazil, and Canada.
Posted Thornton D. Barnes