TD's ATOMIC CAREER
Accouterments of War and Defense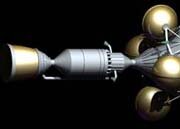 Nuclear Engine for Rocket Vehicle Application
Nuclear Rocket Development Station
Jackass Flats, Nevada
Click on the images below for an enlarged view<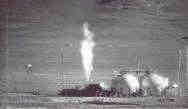 By T.D. Barnes
On the atomic side, I participated in the NERVA project to develop a nuclear engine for use in manned flight to Mars.

NASA's Nuclear Engine for Rocket Vehicle Application (NERVA) program at the Nuclear Rocket Development Station (NRDS), Jackass Flats, Nevada was contracted by Pan American Airways to develop a nuclear Engine for future manned flight to Mars. This 1950 - 1960's Kiwi nuclear reactor Program code-named" Project Rover," consisted of test cells, A, C, and ETS-1 Engine Test Stand; R-MAD and E-MAD (Reactor and Engine Maintenance Assembly and Disassembly facilities; a Control Point/Technical Operations complex; an Administrative area; and a Radioactive material storage area. The three test cells were connected by a railroad where a remote-controlled locomotive transported the highly-radioactive reactor between the assembly complexes and the test stand. It was called the railroad "Jackass Rail Line, the worlds shortest and slowest".

ATOMIC BOMB PROJECTS
Between projects, I participated in several atomic bomb tests at the neighboring Nevada Test Site while awaiting security clearance upgrade required for transfer to the Special Projects "black world" at Groom Lake. The atomic tests in which I participated were Marvel, Cobbler,, Gasbuggy, Cabriolet, and Torch underground detonations.