OXCART LEGACY TOUR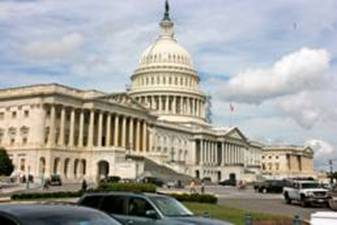 Following the last Roadrunner reunion, Roadrunner President / Nevada Aerospace Hall of Fame Director TD Barnes and various individuals at CIA discussed the need for continuing the symposium panels conducted at the Roadrunner reunion and video recorded by C-Span and the Atomic Testing Museum to preserve this important bit of history at Groom Lake,Nevada. While this discussion was ongoing, Peter DeForth, veteran of the Washington Intel community, told Barnes he believed there would be a great deal of interest in Washington circles in hearing the start-to-finish story of the OXCART program. He believed that a number of museums and government agencies would be glad to host panels that told the entire story. Peter and T.D. began exploring ways to accomplish that goal.
This hunch proved to be right on the mark. Interest in this approach rapidly accelerated everywhere in D.C., and a solid concept for a legacy tour took shape. Peter solicited the help of Dr. David Robarge, CIA Chief Historian who wrote the definitive book on OXCART, to organize and moderate the OXCART Story at all the presentations. Peter, T.D. and David developed an appropriate "screenplay " and identified individual Roadrunners who would be particularly helpful in telling the whole story. First, Toni Hiley at the CIA Museum arranged to have the Roadrunners attend CIA's family day on September 25th to celebrate OXCART History first-hand. Peter, and SR-71 pilots Rich Graham, and Buz Carpenter helped arrange other interesting venues on either side of that event to make it worthwhile for invited Roadrunners to attend.
ROADRUNNER LEGACY ORGANIZERS
| | | | |
| --- | --- | --- | --- |
| | | | |
| Peter DeForth | Dr. David Robarge | Thornton D. Barnes | Rich Graham |
| | | | |
| Toni Hiley | Buz Carpenter | | |
Event Coordinators
Opening Meeting

Peter DeForth

Jim Bower, RRI Sue Covello, RRI

International Spy Museum

Anna Slafer, Director of Exhibits

Mark Stout, Historian

Smithsonian Institution

Jean DeStefano

Dorothy Cochrane

CIA Events

Toni Hiley

Carolyn Reams

DIA Event

Peter DeForth

Carl Dudley

Dani Franssen

Other Associations

Keith Masback, President USGIF

James B. Longley, ATIA

Norm Balchunas, Dir. of Operation AOC

Nicole Sutter, USGIF

Congressional Events

James B Longley, Jr., Executive Director, ATIA

Memorabilia

Cheryl Moore, EAA Store

Mark Wiggins
LEGACY TOUR PANELISTS
Dr. David Robarge, Moderator

Robert "Bob" Murphy

Lockheed Skunk Works Industrial Manager

Dr. Robert Abernethy,

P&W J-58 Engineer

Dennis Nordquist

P&W Engineer

Col. Kenneth Collins

CIA A-12 Project Pilot, Operational Blackshield

Bill Weaver

Lockheed Test Pilot

Col. Rich Graham

SR-71 Cmdr. & Pilot

Col. Buz Carpenter

SR-71 Pilot

Dr. Gene Poteat, LL.D.

Electronics/Physicist/Missile Guidance Engineer

Thornton D "TD" Barnes

Electronics, SAM ECCM, Radar, EG&G RCS & Stealth

Roger Andersen

1129th SAS Operations

Arthur Beidler

USAF Photo Interpreter
Finally, after months of Herculean effort by all concerned, Director Barnes and the selected team of Roadrunner panelists arrived in Washington on September 22 to carry out the Legacy Tour panel presentations during Sept 23-30. Throughout this period they made numerous presentations on the OXCART Story and met and interacted with very interested members of each different audience. The invited panelists for each venue were selected to match the interests of that particular audience. CIA Chief Historian Dr. David Robarge moderated all the panels personally, and under his guidance the panel discussions flowed smoothly, covering the entire spectrum of Project OXCART:Its purpose, the evaluations of Soviet radar capability, development and test of the aircraft and the J-58 engines, RCS and stealth modifications, test flying, missions, photo interpretation and diverse other intelligence impacts,and the program's many intelligence and aviation legacies.

The exceptional success of this tour has drawn significant new attention to OXCART and its pioneering veterans in Nevada.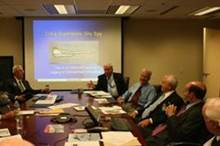 September 23 was the official start of the OXCART Legacy Tour in our Nation's Capitol region. The CIA museum staff early in the day gave Buz Carpenter, Dr. Bob & Sally Abernethy a special tour and photo ops as they could not attend the regularly scheduled tour. All event organizers and panelists then met in the offices ofRiverside Research Institute in Rosslyn, VA to coordinate the events and to assure that a coherent start to-to-finish history of the OXCART program would be told; and that appropriate antidotes and comments by the panelists would be carefully tailored to support that comprehensive story. Afterwards the panelists and organizers enjoyed an excellent lunch and then proceeded to theInternational Spy Museum in downtown D.C. to conduct the first presentation.Attendance at the Spy Museum was substantial and the organizers were very pleased at the interaction between the panelist and the audience. The presentation was video-recorded and will be available publicly at a future date in a format determined by the Spy Museum staff. Some photos from this event appear below, along with a link to a subsequent story about this presentation.
| | | |
| --- | --- | --- |
| Ken Collins, Malvina Martin (National Geographic), TD Barnes | Stacey Slater Bernhardt, TD Barnes, Paul Bernhardt | TD Barnes, Dr. David Robarge, ?, Dr. Bob Abernethy, Dr. Gene Poteat |
Media link: http://indytransponder.blogspot.com/2010/09/oxcart-legacy-tour-begins.html?utm_source=feedburner&utm_medium=feed&utm_campaign=Feed%3A+IndyTransponder+%28Indy+Transponder%29

Friday, September 24, 5:30 PM--. The Director of the Udvar-Hazy Smithsonian Air and Space Museum Gen. John R. "Jack" Daley, are tired U.S. Marine Corps general and pilot, hosted a traditional pre-lecture dinner for the panelists at the Dulles Hyatt Hotel near the Smithsonian's National Air andSpace Museum.
Friday, September 24, 7:30 PM- The second panel presentation occurred at the Udvar-Hazy Smithsonian Air and Space Museum in Chantilly, VA in the Airbus Imax Theater. Event Coordinators Jean DeStefano and Dorothy Cochrane of the Smithsonian Institution had done a masterful job of promoting and managing the Lecture panel presentations entitledInnovations Towards Invisibility - The CIA's OXCART Project and A-12 Reconnaissance Aircraft.A video of the presentation will be available on the Smithsonian web-page soon. Current descriptive Media link: http://indytransponder.blogspot.com/2010/09/sold-out-audience-learn-about-12-super.html
| | |
| --- | --- |
| The 470-seat Airbus Imax Theater was filled to standing room only. | Photo courtesy of the Udvar-Hazy Museum |
Some of the OXCART Legacy Tour panelists are shown posing in front of the SR-71 Blackbird at the Udvar-Hazy Museum that evening. L-R: Dennis Nordquist (former Pratt & Whitney J-58 Engineer), Thornton D. "TD" Barnes (Hypersonic Flight Support Specialist), Colonel Rich Graham (former SR-71 pilot), Dr. Bob Abernethy (Pratt & Whitney J-58 Engineer), Dr. David Robarge (Chief Historian CIA), Colonel Ken Collins (former CIA A-12 pilot), Bob Murphy (Former Lockheed Manager), Lt. Col. Roger Andersen (Former Air Force Operations Officer Groom Lake).

CIA's FAMILY DAY: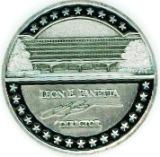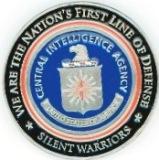 Saturday, September 25, 9:00 AM- The panelists arrived at CIA for the popular A12 plane-side opening ceremony for family day. Event Coordinator was Toni Hiley, Attending Panelists were recognized by the DCI at the 10:00 AM ceremony, and after that OXCART Panelists remained available at that location under a tent to meet and greet individual CIA employees and their guests through mid-afternoon. The new Director of National Intelligence LtGen James Clapper, USAF ret, also met the panelists and had his photo taken with them. Then, CIA Director Leon Panetta met each member of the legacy tour and presented them with his personal coin, shown here. Roadrunner associate members Mike Schmitz and Connie Pardew were able to accompany the panelists as guests of the EAA and prepared an account of the event for the Roadrunner news. The story was picked up by the IndyTransponder and can be accessed at the link below: Media link:
http://indytransponder.blogspot.com/2010/09/day-3-of-oxcart-legacy-tour.html?utm_source=feedburner&utm_medium=feed&utm_campaign=Feed%3A+IndyTransponder+%28Indy+Transponder%29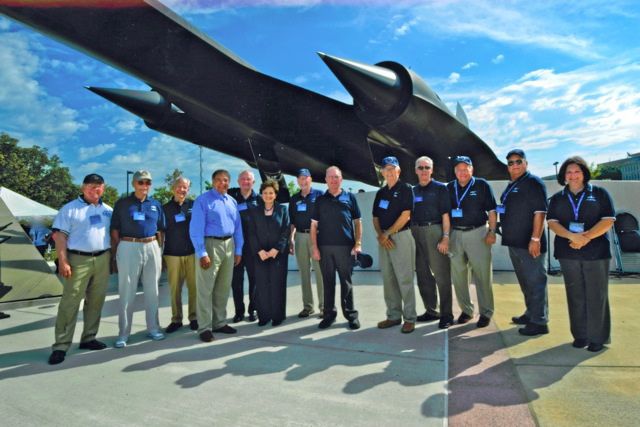 NVAHOF Director Thornton D. "TD" Barnes (center), Oxcart Legacy Tour Team, CIA Director Leon Panetta (left-center)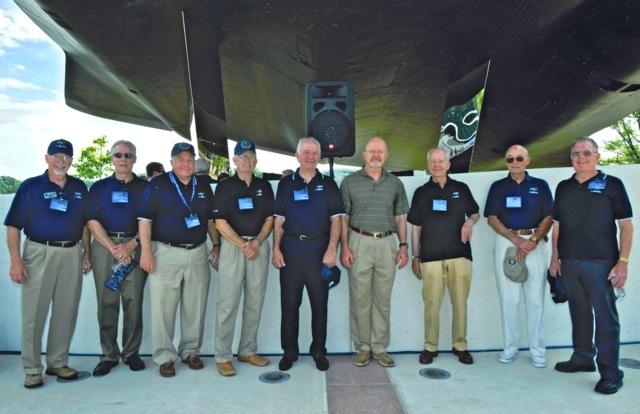 NVAHOF Director Thornton D. "TD" Barnes (far right), Oxcart Legacy Tour Team, NSA Director James Clapper (center)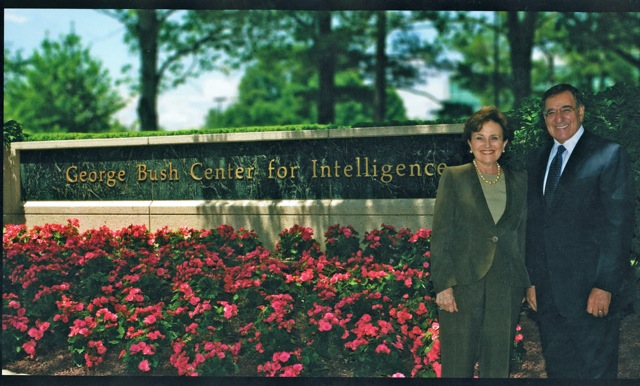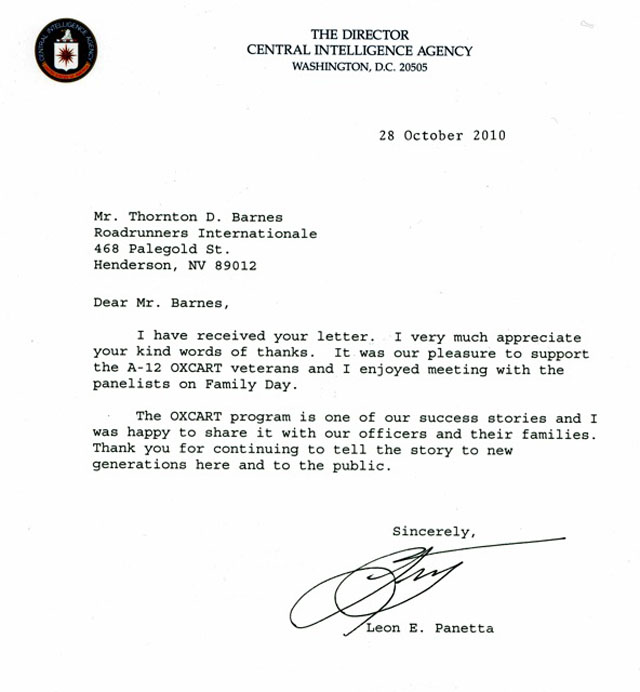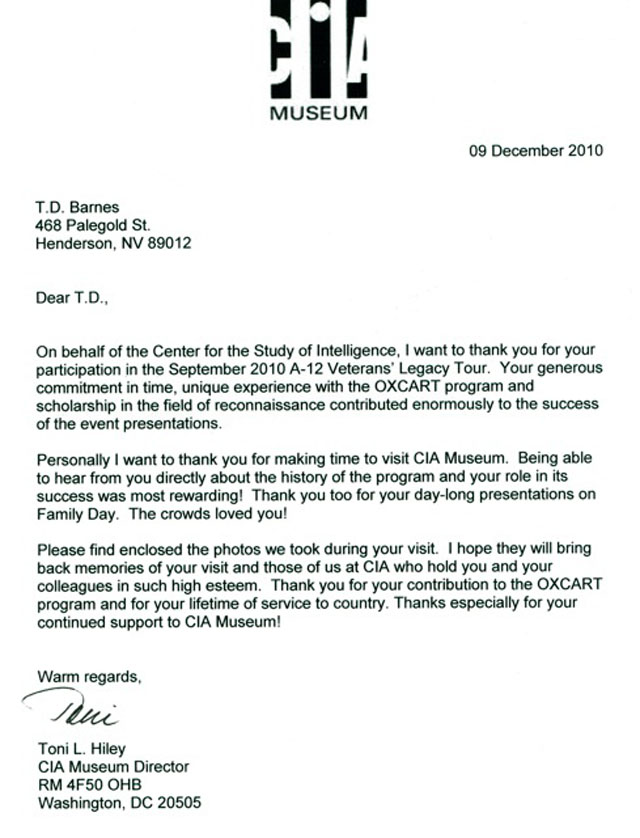 Sunday, September 26, OXCARTLegacy Tour: Paying Tribute to those having taken their final flight and now resting in peace at the Arlington Cemetery. Saturday, the Roadrunners paid tribute to fallen A-12 pilots at CIA headquarters-- Today the Roadrunners visited the final resting places of two A-12 program personnel at Arlington National Cemetery-Major General Douglas Nelson and Col. Ray Schrecengost. Respects were also shown to U-2 pilot Francis Gary Powers. This was especially meaningful as Cynthia Miller, daughter of Colonel Schrecengost and Gary Powers, Jr. were participating as guests at some of the events of the OXCART panelists in Washington.
Media link:http://indytransponder.blogspot.com/2010/09/oxcart-legacy-tour-paying-tribute.html?utm_source=feedburner&utm_medium=feed&utm_campaign=Feed%3A+IndyTransponder+%28Indy+Transponder%29
Sunday, September 26, 6:00 PM- The panelists and guests attended a no-host dinner at J. Gilbert's Restaurant in McLean, VA where many of the Roadrunners had previously dined during the A-12 dedication event in September 2007.
| | | |
| --- | --- | --- |
| Too noisy to hear - too many to count. We were all there | Roadrunners Ed & Cynthia Miller (daughter of Col. Ray Schrecengost), TD Barnes, Pat Graham. | Barnes, Robarge, & Al Rubin who drove down from Canada for the dinner w/friends |


Monday, September 27, 9:00 AM-- "CIA's A-12 OXCART: A Legacy of UnmatchedInnovation" The third panel presentation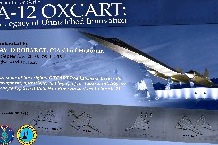 to the Defense Intelligence Agency workforce was held in DIA's Tighe Auditorium in the Defense Intelligence Analysis Center, Bolling Air Force Base. (9:30-11:30 AM). U.S.Army LTG Ronald L. Burgess Jr., 17th director of the Defense Intelligence Agency and commander of the Joint Functional Component Command for Intelligence, Surveillance and Reconnaissance (JFCC-ISR) for U.S. Strategic Command (USSTRATCOM) welcomed participants and presented each his personal coin which is shown here. The general and Barnes, who was also Army, exchanged a couple HOOAH's to establish their turf amongst the CIA and Air Force panelists.The non-military panelists wisely stayed out of the macho, dirt-pawing,muscle-flexing thingie of their Army contemporaries. The panel presentation was also recorded and will be made available at a future date. The artwork used in the advertising this event was extraordinary, and the panel presentations were well received.


NVAHOF Director Barnes second from left, panelists meet DIA Director Burgess
* * * * * *
Monday, September 27, 3:30 PM -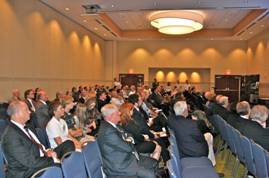 The U.S. Geospatial IntelligenceFoundation, in cooperation with the Association of Old Crows and the Advanced Technical Intelligence Association, hosted a panel session at the Dulles Hyatt Hotel. NGA and NRO employees were invited to attend. The panel presentation was very well received and a sumptuous reception followed the panel presentation.The day's events were posted on the Indy Transponder news blog Media link: http://indytransponder.blogspot.com/2010/09/oxcart-legacy-day-5.htmlPhotos of the event are posted on the USGIF website at:http://usgif.org/news/143-almost-200-turn-out-for-usgif-workshop-on-cia-s-a-12-oxcart-spy-plane-program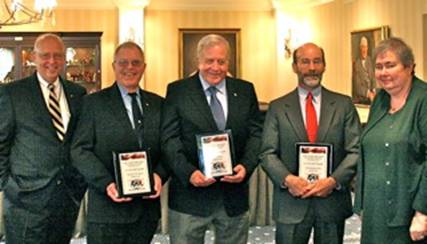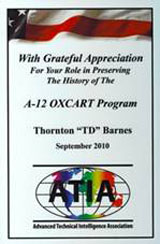 Tuesday, September 28, 10:30AM - The A-12 Panelists and guests were invited to the Capitol for a phenomenal VIP tour given by Steve Livengood, Chief Guide and Public Programs Manager of the US Capitol Historical Society. This was a tour that every high school student in the United States should be required to take as they learn the history and ways of our great nation.
The tour was followed by an elegant luncheon at the Capitol Hill Club, which was sponsored by Advanced Technical Intelligence Association. The event coordinator was former congressman and ATIA Executive Director Jim Longley. Mr. Longley and ATIA Secretary/Treasurer Barbara Sanderson presented messer's. Robarge, Barnes, and DeForth an ATIF appreciation award for their efforts in bringing the OXCART Legacy Tour to Washington. The chocolate cake served with the lunch was to die for.
* * * *
NVAHOF officers Barnes and Pardew seized the opportunity to visit U.S.Senator John Ensign to discuss the OXCART Legacy Tour and related topics relevant to their home state and that of Project OXCART. Congresswoman Shelley Berkley contacted Barnes concerning the tour, but was unable to meet due to conflicting schedules.
| | |
| --- | --- |
| | |
| Jacobsen, Pardew, Barnes, Senator Ensign, Andersen, Linda, Staff, Schmitz | Jacobsen, Barnes, Ensign, Pardew, Andersen, Linda |
Media link: http://indytransponder.blogspot.com/2010/09/oxcart-legacy-day-6.html?utm_source=feedburner&utm_medium=feed&utm_campaign=Feed%3A+IndyTransponder+%28Indy+Transponder%29

Wednesday, September 29 was a day off for the panelists. Most toured the city and visited with old friends in the area. Pardew, Schmitz, and Barnes spent in the drizzling rain touring the various war veterans' memorials.


Panelists and guests joined their CIA friends Toni, Carol, and the CIA EAA store staff for a great dinner at Maggiano's Restaurant in McLean Virginia and a ton of laughs.

Thursday, September 30, 09:00 AM - Roadrunner RogerAndersen and guests Linda Cady and Annie Jacobsen, who were unable to attend the panel later in the day, were provided a personal tour of the CIA Museum and Headquarters building by Dr. Robarge. At 1200 hours, the OXCART Legacy Tour panelists and their guests arrived at CIA Headquarters for a specially-arranged lunch under the A-12 and D-21 drone models hanging in the atrium of the new headquarters building. This was followed by a tour of the museum and a photo session at the CIA Seal (It was raining too hard to do that at the Article 128 site). At 1430 hours, the group gathered for the final panel presentation to CIA workforce in the Bubble auditorium: as - "CIA's A-12 OXCART: ALegacy of Unmatched Innovation", all the panelists who attended participated together on stage in the fifth and final panel presentation in the CIA's Auditorium ("The Bubble") at CIA's Headquarters complex off of Dolly Madison Boulevard in McLean, Virginia. Event Coordinator was Toni Hiley, CIA museum staff.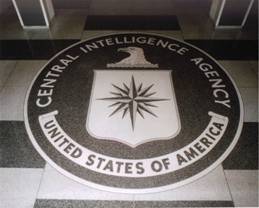 As the Legacy tour concluded, organizers, panelists, guests, and members of the audience agreed that this series of presentations and visits by panelists had educated the public and the Defense and Intelligence communities about the rightful place of the A-12 in aviation and intelligence history. and many contributions to aerospace and defense technologies and missions. The OXCART program was seen as pivotal in our country's Cold War efforts and fostered future innovations which are still In use and critical to our nation's security today.

The OXCART Legacy Tour ended with a great steak dinner at Ray's the Steaks Grill in Arlington, Virginia. Old friendships were renewed and new friendships began.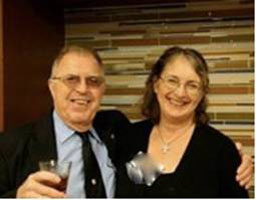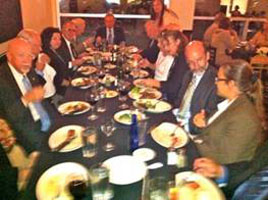 Special thanks are extended to Mike Schmitz and Connie Pardew for Mike's taking well over 1,000 photos and to Connie for recording each day's activities. Each night when all the fun ceased and everyone went their separate ways, Mike and Connie spent another couple hours in Barnes' quarters uploading the day's photos into his computer and typing up an account of the day for posting in the Roadrunners News. While they were doing this each night, Peter, T.D. and David were conversing on their cellphones about timing, transportation, and any number of other issues for the following day. The lodging at Bolling AFB for the most part worked out well for the tour; and the economical lodging was certainly worth the price compared with Washington rates for hotels.
We expect there will be an increased interest in interviewing the secretCold War veterans of Nevada from here forward.
Approximately 1,800 photos taken by Mike Schmitz have been uploaded to the following links for your convenience in selecting and downloading the photos you desire. If higher resolution photos are desired, please contact T.D. Barnes at tdbarnes@nvahof.org
Here are the panelists and guests who participated in the :
| | | |
| --- | --- | --- |
| Peter W. DeForth & Carol Hook | David S. & Cheryl Robarge | Robert B. & Sally K. Abernethy |
| Roger W. Andersen & Linda R. Cady | Thornton D. Barnes | "Buz" & Nancy J. Carpenter |
| Kenneth S. & Sandra S. Collins | Richard & Patricia Graham | Robert & MaryJane Murphy |
| Dennis Nordquist | S. Eugene Poteat | William A. Weaver |
| Annie Jacobsen | Michael D. Schmitz | Connie L. Pardew |
---
---
---