Military Career of T.D. Barnes
February 1954 – March 1964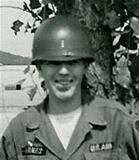 WHERE I SERVED
| | |
| --- | --- |
| | |


Photo credit: Fort Sill FA OCS Alumni

Click on images

Photos credit: Fort Sill FA OCS Alumni, OCS Fort Sill, Oklahoma
NIKE HERCULES AIR DEFENSE MISSILE RADAR
Click on images
After my tour in Korea, I spent a year at Fort Riley, Kansas while awaiting assignment to the Nike Ajax and Nike Hercules school at Fort Bliss, Texas. I attended school for 54 weeks learning the electronic maintenance of the various radar systems and the missiles.

Little did I know at the time that ten years later I would be contracting for the CIA at Area 51 operating my Nike radar from Fort Bliss.


HAWK AIR DEFENSE MISSILES
A few months after my graduation from the Nike Hercules radar and missile school, I volunteered and was accepted to a 6 month class on the HAWK missile and radar system. Shortly after my graduation, my battalion was deployed to Germany because of the Iron Curtain crisis.
Click on the Missile Icons below


UNIT ASSIGNMENTS

| | |
| --- | --- |
| Fort Ord | Camp Chaffee |
| FA Ops/Intel. Sp: Korea | BtryB31stFA Bn: Korea |
| BtryC1stFABn5thArty: Ft Riley | NikeAjax/Hercules:USARADSCHFTBliss |
| Hawk:USARADSchFBliss | BtryB6thMslBn52dArty(HAWK)BambergGer |
| OCS:HHBUSAAMOCSFtSill | JAG USARMJAG Ft. Sill |

MILITARY MEMORIES
Basic training and then Korea 1955 – 1956
Click on the images to enlarge. Photo captions will display at top of enlarged photo
Family after Korean tour 1956
Nike Ajax, Nike Hercules, & Hawk Missile schools Fort Bliss, Texas and then deployment to Germany 1956 – 1962
WELCOME
We hope you enjoy following our exciting adventures in our circle of life.